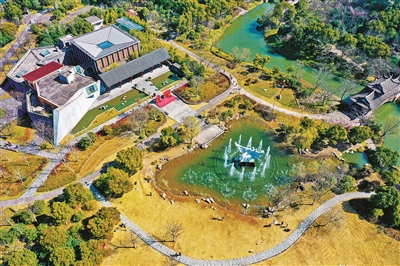 Ningbo's Liangzhu Cultural Park. /宁波梁祝文化公园。[Photo by Tang Yan]唐严摄
  By Jin Lu
  Ningbo's Liangzhu Cultural Park is a beautiful park equipped with a variety of facilities and services. It has hosted multiple editions of the National Liangzhu Love Festival.
  宁波梁祝文化公园风景秀丽,休闲娱乐活动众多,拥有完善的配套服务,曾多次举办盛会——中国梁祝爱情节。
  In the area where the Park is located, there used to be a temple commemorating Liang Shanbo and Zhu Yingtai, the "Butterfly Lovers" from Chinese mythology. Locals would hold a festival every year in the eighth lunar month to honor their everlasting love.
  梁祝文化园是在梁祝墓、庙古址所在地上建造起来的。每年农历八月,当地都会举行传统的庙会,以纪念梁祝之间的爱情故事。
  Local historical records claim that there really was a man named Liang Shanbo who studied alongside a woman named Zhu Yingtai in his youth. Liang served as the magistrate of Yinxian (present-day Yinzhou) for three years, then fell fatally ill due to excessive physical strain after overseeing a local flood control project. Liang asked to be buried at Jiulongxu, which is where the Park stands today.
  据《宁波府志》等史志上记载,梁山伯与祝英台曾为同窗好友,梁山伯完成学业后便任鄞县县令三年,因治水积劳病逝,遗命安葬于梁祝文化园所在地高桥九龙墟。
  The discovery of Liang Shanbo's tomb and archeological artefacts at the Park adds more credibility to the legend.
  现古墓遗址和出土文物已被发掘,为这个传说增添了可信度。
  Over the years, the Park has hosted numerous events celebrating the Butterfly Lovers' tale, including the National Liangzhu Love Festival, the Liangzhu Love Carnival, the Liangzhu Commemoration Stamp Issue Ceremony, the Liangzhu Blind Date, the Liangzhu Matchmaking Fair, and the Liangzhu Cultural Festival.
  多年来,梁祝文化园承办了中国梁祝爱情节、爱在梁祝嘉年华、梁祝邮票首发仪式、梁祝万人相亲会、梁祝天地婚嫁集市、梁祝文化节等活动。
  If you are interested in this traditional tale of immortal love, the Liangzhu Cultural Park is definitely worth a visit. It delights visitors from all over the world with its unique charm.
  如果你向往一段至死不渝的爱情,梁祝文化园绝对值得一游,它以其独特的魅力吸引着国内外游客。